Sunglasses are an essential piece of eyewear. With your unique prescription, they can enhance your vision, protect your eyes from the elements, and look stylish. Contrary to what you may think, sunglasses aren't just for beach vacations and the summer months. They can offer protection every day of the year, from bright sunny days to overcast and gloomy ones.
When you're looking for the right pair of sunglasses, unique features can improve your visual experience and polarization is commonly recommended. Polarized sunglasses are popular among outdoor enthusiasts, athletes, and people who value sharper vision as they help reduce glare in bright environments and reduce contrast.
If you're curious about polarized lenses and want to learn how they can add value to your vision, visit Dr. Jennifer L. Shane & Associates to view our sunglasses options and discuss personalized lenses and frames for your lifestyle.
What Are Polarized Lenses?
Polarized sunglasses, otherwise known as anti-glare, help reduce squinting and eye strain from light refraction. They work as mini-blinds for your eyes by blocking horizontal light beams from entering the eye, altering color perception, and providing clearer vision.
You may notice glare when you're driving, near water, or when playing outdoor sports. Polarization helps provide consistent visual acuity so the details are in focus. You won't miss a goal and can keep your eyes on your golf ball on the green, all while protecting your eyes.
How Do Polarized Sunglasses Work?
Light usually bounces off several angles before it enters your eyes, but the light is much brighter when it reflects off a single horizontal surface, like the hood of a car. A chemical coating is vertically applied to the lenses, creating a polarized effect on sunglasses.
A vertical orientation blocks the horizontal light that causes glare by only allowing vertical light beams to pass through the lens while blocking horizontal rays. This results in sharper, more detailed vision in the brightest conditions.
Are Polarized Sunglasses Better for Your Eyes?
The benefits of polarized lenses on your eyes and vision include:
Decreased glare and reflection
Reduced eye strain
Clearer vision
Diminished color distortion
These features make polarized lenses ideal for sunglasses, especially if you spend a lot of leisure time outdoors, work outside, or drive long distances.
However, there are times when polarized lenses aren't beneficial:
Looking at LCD screens, such as on your dashboard
Night driving, since polarized lenses can darken the lens
People with heightened sensitivity to light changes
Talk to the optical team at Dr. Jennifer L. Shane & Associates about your lifestyle, work, and how you enjoy time off to help determine if polarized lenses are right for you.
If you like to play weekend morning sports when the sun is in your eyes or spend your evenings walking the dog before dusk, polarized sunglasses can help reduce glare, limit squinting, and eliminate headaches from eye strain.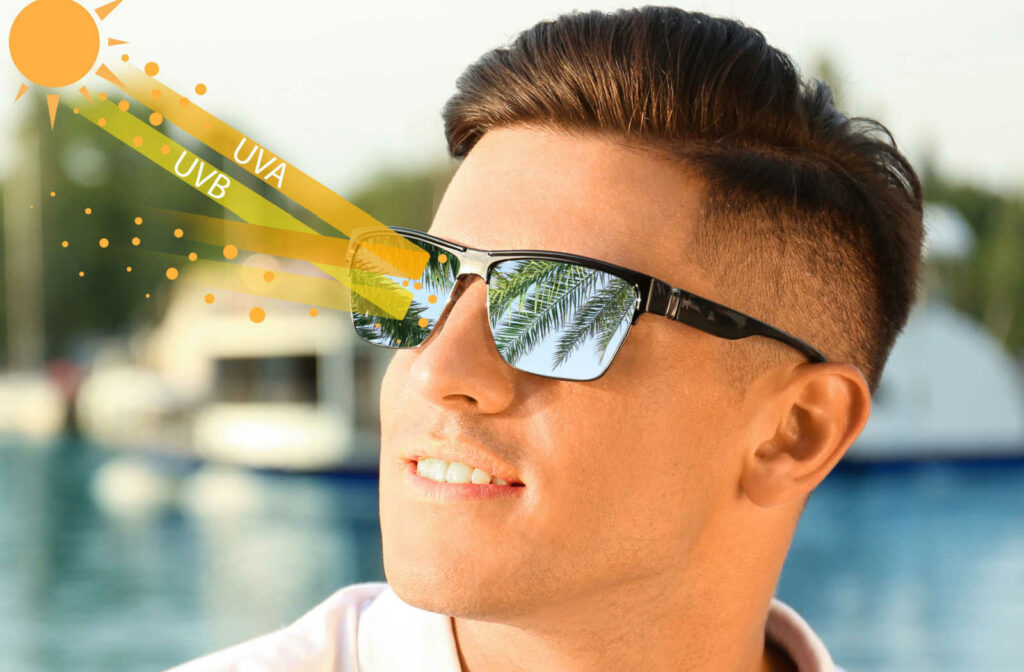 Polarized vs UV-Blocking: Are They The Same?
It's easy to confuse polarized and UV-blocking as interchangeable, but they're distinct features. Not all polarized sunglasses are UV-blocking. Every pair of sunglasses you have should block ultraviolet (UV) rays from entering your eyes, but polarization doesn't protect your eyes against the sun's harmful rays on its own.
While many polarized sunglasses also have UV protection, they will be labeled separately. To help you get the best protection for your eyes, our optical department can personalize your shades with the coatings you need to keep your eyes safe from the elements.
When looking for everyday sunglasses, you should look for lenses that block 100% of UVA and UVB rays. Without UV protection, your eyes are at risk of developing photokeratitis after prolonged sun exposure, which can contribute to ocular problems as you age.
A pair of sunglasses can help keep your eyes safe and vision clear and protect against UV-related vision problems developing in the future.
Find Your Next Pair of UV-Blocking Sunglasses
Putting on your sunglasses should be an automatic step as you head out the door for the day. The sun is bright and can cause unseen damage to your eye structures over time and lead to discomfort if you're in the sun too long without them. You wear SPF to protect your skin, protecting your eyes is just as important.
Polarized lenses can be an added feature to sharpen your vision, decrease eye strain, and reduce headaches from the sun's glare. Visit the optometry team at Dr. Jennifer L. Shane & Associates to explore our trendy boutique selection of frames, lenses, and add-ons available to make wearing sun protection on your eyes effortless and chic.